Restaurant Review (From "Eating Farm to Table, by Way of a Former Quarry" By Marc Hurwitz)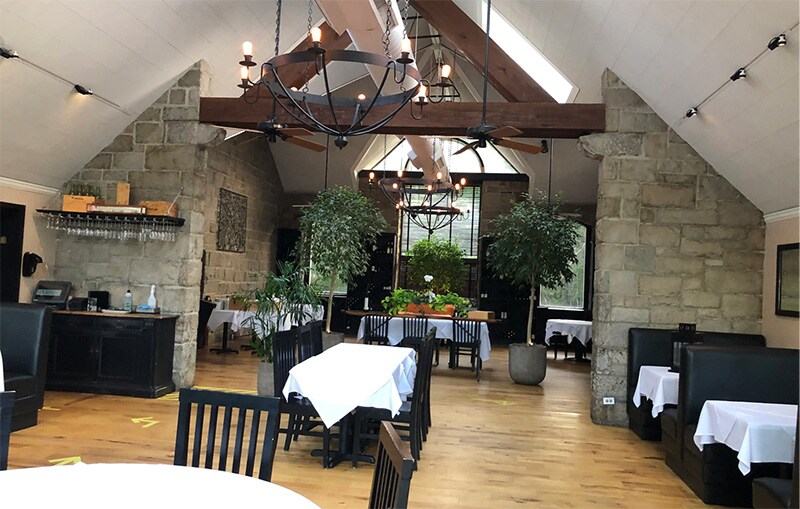 Look around Greater Boston and much of the rest of New England and you'll see granite everywhere: in house foundations, monuments and obelisks, bridges, sidewalks and, if you're a hiker, ancient stone walls in the woods.
Much of the granite you see today came from long-abandoned quarries—there are famous ones just off the highway in Quincy—but you can also find quarries hidden away in places like Rockport, Sharon, Lynnfield, and Woburn. One of the former quarries is even home to an upscale restaurant, one with a name that certainly hints at its history.
The Quarry Restaurant & Lounge in Hingham sits atop an old quarry pond which adds a bit of beauty and peace to its location. The stretch of Route 53 that runs through Weymouth and Hingham has a wide variety of dining options, and while much of the Weymouth section and the part in Hingham near Route 228 (and Route 3) are busy and often congested with traffic, the right-hand section of the line Weymouth/Hingham is quiet and largely undeveloped. You'll find The Quarry in this wooded backdrop.
The Quarry is perhaps more of a wine or cocktail spot than a place to grab a beer, though it certainly does a number of excellent local brews as well (and the South Shore has become increasingly known for its great breweries). However, the wine list is where the restaurant really shines, having been awarded the Wine Spectator's Award of Excellence several times. Among the options here are Veuve Clicquot Brut Yellow Label champagne, MacRostie chardonnay, Château d'Esclans Whispering Angel rosé, and, for red wine lovers, Château Saint-André Corbin Saint-Georges-Saint-Émilion. Cocktails are excellent at The Quarry, with a few favorites like the slightly maple Old Fashioned, and the Southern sour men with bourbon and the "Mike Tay," which packs a bit of a punch.