By Emma Krasov. Photography by Yuri Krasov
A lively, chatty crowd that gathered by the water's edge at the Port of San Diego, California, was actually a queue, divided according to each group of passengers' designated boarding times. Ready for a week-long Mexican Riviera cruise aboard majestic Koningsdam, we found our time slot group on B Street Pier, and stood at the end of the line that immediately extended further away behind us.
Even though my husband and I spend all our family vacations traveling the world, and at any given time we can be caught plotting our next trip, cruising hasn't been our preferred pastime, for better or for worse.
Holland America Line made us change our minds and embark on an ocean liner adventure thanks to their newly implemented Culinary Cruises program and a promise of master chef and Culinary Council chairman Rudi Sodamin's highly entertaining cooking demo and a lavish Chef's Table dinner onboard Koningsdam.
Looking ahead, with the promise gloriously delivered, plus the ship's sleek contemporary design, abundance of wonderful contemporary art, impeccable service, and an amazing array of stylish restaurants and entertainment venues, our cruise turned out to be a success, and the most memorable trip of 2022, when we feverishly tried to catch up with travel after two and a half years of COVID-induced isolation.
Dedicated in 2016, and registered in the Netherlands, Koningsdam is a 975-ft midsize ship with the 2,650 passenger capacity—one of the biggest, most technologically advanced and luxurious vessels of Holland America Line. The latter, originally named, Netherlands-America Steamship Company, was founded in 1873, and headquartered in Rotterdam, the Netherlands with the goal to provide freight and passenger services to the Americas. Now, the company offers more than 500 cruises on its 11 vessels to hundreds of ports on all seven continents.
Along the decks of the gorgeous Koningsdam, we found elegant staterooms of several categories; a spacious World Stage Theatre, equipped with the newest audio-visual devices; dozens of cozy, artfully appointed public spaces; fitness and wellness facilities, a spa, a casino, a sizeable Lido Deck Pool under a movable glass dome, and both upscale and casual eateries to meet every demand and satisfy every palate.
On the very first evening, right after watching the San Diego skyline disappearing in the golden hue of an early sunset, framed by flocks of seagulls up in the sky and tiny sailboats underneath, we dined at the posh onboard steakhouse, Pinnacle Grill. The restaurant has a nightly menu of outstanding stakes and other signature dishes, rivaled by the beverage list of classic cocktails and exceptional wines, mostly from Washington State, due to Holland America Line headquarters being located in Seattle.
Many special menu items at this white-tablecloth establishment were created exclusively by David Burke, one of the Culinary Council distinguished chefs.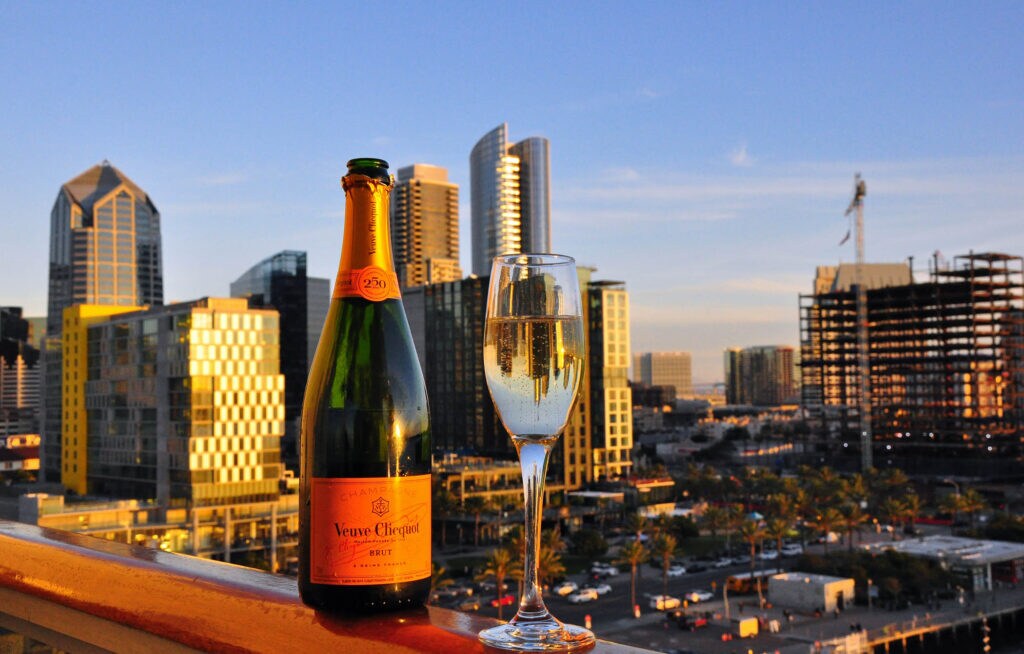 His incredibly flavorful Clothesline Candied Bacon, glazed with maple syrup and spiced with black pepper, is served hanging from a "clothesline," indeed, garnished with a wedge of lemon and a slice of half sour pickle, while Beef Tenderloin with Lobster Dumplings presents the best of surf and turf, enhanced by a touch of seasonal veggies, celery root purée, horseradish bordelaise sauce, and lobster béarnaise.
There are too many wonderful menu choices at Pinnacle Grill to mention them all, but some of the most popular seem to be the venue's signature appetizer, Jumbo Lump Crab Cakes with cucumber and sweet chili-mustard, and a main course of a Double-cut 14 oz Kurobuta Pork Chop with caramelized onions in Walla Walla apple pan jus.
Equally remarkable dessert menu features Jacques Torres Chocolate Soufflé with vanilla Chantilly foam and crème anglaise, and Key Lime Pie with whipped cream.
That night, the World Stage Theatre had a full house for a deeply moving Origin Story video presentation with a live narrator talking about Holland America Line's 150-year history, rich with international adventures, heroic voyages, great celebrity names, and historic events.
The next day, World Stage's enormous space was transformed into a live Rudy's Cooking Demo with Chef Sodamin presenting his kitchen staff to the public, and then sharing his soufflé recipe, prepared right in front of our eyes with a help from a few volunteer assistants from the audience.
With egg whites whisked at a cosmic speed, Grand Marnier flowing, and powdered sugar flying, the cooking demo was as much first class entertainment as it was an educational session on how to make a finger-licking dessert by the Chef's best recommendations.
"If I can do it, you can do it! Hello!" proclaimed Chef Rudi to his team, and shared other tidbits of wisdom, accumulated in the course of his 50-year culinary career, like "Without humor in the kitchen the food won't be good," and "If your cooking doesn't work out, you try it again! Keep going," interspersed with practical advice to make sure the eggs are room temperature, and all doors and windows are closed for the soufflé making to avoid drafts that can ruin whisked egg whites.
He encouraged his helpers with lots of cheers, and concluded with, "Let's put it in the oven, and pray!" to the audience's delight.
A detailed recipe, printed on a celebratory card, was distributed among the present public for everyone to try and replicate it at home.
The full spectrum of Chef Sodamin's mastery, best understood at his signature restaurant, Rudi's Sel der Mer, shined that evening at the long-anticipated Culinary Council Dinner. The Chef's Table menu sounded like a piece of heaven, especially since we knew that the Line was committed to sourcing only Alaskan fresh-caught sustainable seafood, and local produce in any destination.
Our five-course dinner started with a cute amuse-bouche of salmon pate on a fish-shaped cracker, and proceeded to Langoustine Bisque, poured tableside, and made with monkfish, shrimp, grouper, clams, fennel, and brandy cream. Sacha Lichine's 2018 "Whispering Angel" Rosé from Caves d'Esclans, Côtes de Provence, France, made a great pairing for this velvety seafood soup.
The Master Chef's tradition of using fresh produce and seafood for his art started long ago, and resulted in hundreds of photographs, depicting people's smiley faces, dressed in tropical fruit and lobster tails as well as "faces" made entirely of foodstuffs, funny and inventive, and rather expressive of the celebrity chef's convivial character.
"In three years I made 400 Food Faces," said Rudi, and added that when feeling a creative impulse, he composes a distinct funny face out of his market finds in less than 30 minutes.
"The kitchen work is the hardest work," he said, and shared, "It's fun to be in the kitchen because of 'Yes, Chef!' and because Holland America has the best cuisine in the industry."
From his kitchen counter, Rudi Sodamin's food art moved to the richly illustrated coffee table books, unique serving plate designs, and real-life edible Food Faces, like the ones on our plates—with pouty caramel lips, ice cream and strawberry cheeks, dark chocolate eyes, white chocolate bangs, and berry hair ornaments. As a souvenir, a "talking" bubble-head Chef Rudi was placed by my dessert plate, overlooking his own creation—all in all that was an evening to remember!..
There are quite a few upscale, reservation-only restaurants onboard Koningsdam, that also include Tamarind, representing the cuisines of Southeast Asia, China and Japan, the newest specialty restaurant Nami Sushi with a sushi chef's demonstration counter, and Canaletto offering a classic Italian menu.
Casual eateries, fully included in the cabin price and open to walk-ins, are nevertheless decorated with the same panache and attention to detail, like the light-filled Dining Room—the largest white-tablecloth double-deck restaurant on board with glass walls and shiny chandeliers made of red and white spheres; the Grand Dutch Café that replicates Amsterdam's popular watering holes with traditional Dutch snacks and beverages; Lido Market, where multiple stations serve all kinds of hearty breakfasts from dumplings to omelets to almost 400 of cruise passengers at a time, plus poolside Dive-In burger place, New York Deli and Pizza, and Café Gelato with everyone's favorite treats for adults and children. That not to mention multiple bars, from small and simple to fancy and artfully decorated, accessible practically at any time on various decks of the giant ship.
The Koningsdam's Culinary Cruise included and highlighted signature dishes from different chefs—members of the Culinary Council—on all restaurant menus for the entire week we were circling the Pacific coast of Mexico and stopping in Cabo San Lucas, Mazatlán, and Puerto Vallarta.
Culinary Cruises on other Holland America ships also offered cooking demonstrations and exclusive chef's dinners from the elite chefs, like Ethan Stowell aboard Westerdam, on 7-Day Alaskan Explorer, Jacques Torres on Zaandam for 9-Day The Atlantic Coast, David Burke on Nieuw Amsterdam, 7-Day Eastern Caribbean, and Andy Matsuda on Nieuw Statendam, 10-Day Southern Caribbean Seafarer.
"Holland America Line's culinary program is guided by some of the world's foremost talents, and no other cruise line has this level of experience from such a team of experts," said Michael Stendebach, vice president of food, beverage and guest services, Holland America Line. "It's not every day you learn a recipe directly from the famous chef who created it and hear their secrets to success in the kitchen. We have been eager to reengage our talented Culinary Council chefs to come back on board and offer guests this exclusive level of access."